Career as an Art Educator
Before returning to my career as full-time artist, I spent 20 years as an art educator. I worked with students at all levels, as a Teaching Assistant at UW-Madison, teaching K-8 students at Wingra School, to serving as Assistant Professor of Art at the University of Wisconsin-Platteville, leading the Art Education Program for undergraduates. I loved mentoring art students and future teachers and I strongly believe in public education. I continue my love of teaching, mentorship, and outreach by conducting fused-glass courses twice a year. Below are highlights from almost two decades in the art classroom.
I believe in the education of art.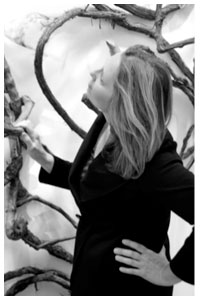 Art affects human understanding and interpretation of the world. Art positively helps people make further application of the content learned inside and outside of academia. Art stresses the importance of developing creative problem solving skills that are critical for success in our rapidly changing economy. Art also fosters the development of learning about ourselves and those around us. Developing skills in art are necessary because creativity and design are utilized in every aspect of the professional world. A philosophy of art education must involve an understanding of student learners, child development, artistic development and how each student learns things a little differently. I use a content rich discipline-based approach to teaching art education—which includes teaching about art history, art aesthetics, art criticism and studio art.
I have developed art curriculum that merges newer theories about child development, emergent curriculum, progressive education, service learning, teaching to the senses and culturally responsive pedagogies. I have developed curriculum for the K-12 art classroom that uses interdisciplinary methods that enhance learning, creativity, innovation, and community outreach that meets the needs of a diverse population of students and a rapidly changing technological world. With human and ecological diversity at the heart of my teaching practice, I am exploring how art education can merge diverse student interests and passions in an evolving, responsive and socially relevant way.
The Role of The Art Teacher

My role as an art educator is to create a learning environment that addresses needs of a diverse population and provide students an atmosphere in which creative thinking is encouraged and developed. People are different, students learn differently and all have different personal experiences, abilities and centers of perception. My goal is to ensure a classroom that addresses the needs of its learners which is tolerant of their identity as human beings and is best achieved by the individual effort of the teacher as well as the student. Finding and making personal connections with a diverse population of learners is something I develop through collaboration with students, educators, community, as well as my own personal reflection and professional development.
Learning Theories And Art Education
I believe early childhood development provides a base for children to form who they are as individuals and art curriculum should be based on principles of respect, responsibility and community through exploration and discovery in a supportive and enriching environment that follows the interests of the child based from theories developed by the Reggio Emilia schools.
Educational opportunities must provide students control over the direction of their learning.
Learning must include methods that allow touching, moving, listening, seeing, and hearing.
Learning has a relationship with others and with material items in the world.
In order for learning to take place, students must be allowed to explore.
Children and adult learners must have endless ways and opportunities to express themselves.
I am an advocate for democracy in learning and believe there is value in developing a model for Progressive Education in arts education because students learn from their active participation in artistic social, political and economic decisions. Respect for diversity is essential to learning and each individual should be recognized for his or her own abilities, interests, ideas, and needs—based on their race, ethnicity, age, gender, religion, region, sexual orientation and other forms of identity. I am inspired by Emergent/Constructivist theories in education that merge student's interests and passions in art in an evolving, responsive and socially relevant way. Bridging theories from Culturally Responsive pedagogy in the art classroom develops receptive, learning processes that bridge relevant, effective connections between teacher, student and the content matter. Creative approaches to developing authentic assessment are imperative in order to ensure the needs of diverse learners are effectively and equitably evaluated.